Let me introduce you to my new bag, thanks to the lovely Darcy at Tom Bihn
So this is a new knitting bag that they are going to release at the end of the week. They have sent me this sample to check out because they know I have real knitting bag issues (notice the lack of floral patterns… nice). Darcy told me about this like a year ago, so I have a long build up for this and am ready to gush about it all.
They have not come up with a name for the new bag, so I will refer to my new bag as Sam. Me and Sam have not had a lot of time yet to see if we get a long, but I will be posting progress reports as we become friends. Sam showed up with some friends that made me squee with joy… (I know this is not the experience thatDarcy was looking for, but like a child who recieves a gift and plays with the box, I was a little distracted)
Sam's little friends are as follows:


Mark (as in holds stitch Markers) is ever so transparent and tiny, perfect for my colorful little friends.

Natalie (the notions holder) is an awesome way to hol many notions and needles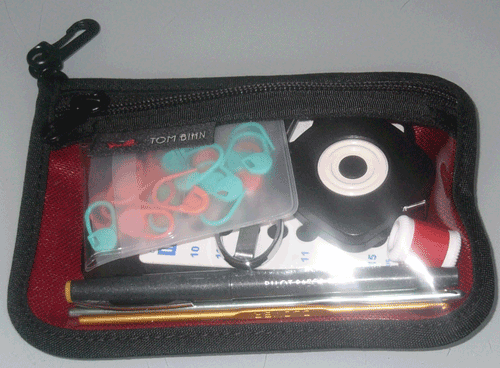 Jiles (my everything bag) is now going to be joining me on many trips, with all the things I need… I can seem them.. it's awesome

OK… so this is the gang… I don't know what to do with these guys yet, but I am sure that I will find something fun to do…
So I am really excited about all these things that they sent me. The clear plastic bags with the clips are ohh so useful. I can't wait to attach them to my normal gear and stuff. I will be ptting these toys through some Boston trauma and get back to you all about how they stand up.