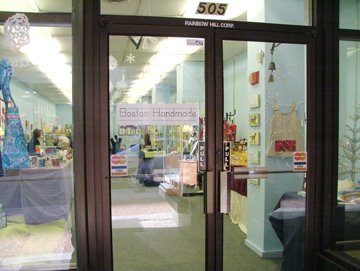 Jessica Burko (the force behind Boston Handmade) and some of the exhibitors at Boston Handmade Downtown (located here) sit down with me to talk about the holidays and fiber fun. Jen of Blue Alvarez, Lynn of Cozy Cottage Creations, and Sedruola of Sedruola's Yarn Obsession all have some interesting insight on making stuff for people as gifts and getting through the holiday season.
Also… I have an update about my Knit One Save One (KOSO) project. Some stores I have contacted have offered to collect caps as well as hand out some donated materials for me. You can pick up two balls of yarn (courtesy of Kraemer Yarns) for making hats for KOSO while supplies last and drop off caps for KOSO until Sunday January 18th at the following locations:(in alphabetical order)
Mind's Eye Yarns in Porter Square
Windsor Button in Downtown Crossing
Woolcott and Company in Harvard Square
While there is some confusion about deadlines and what is written on KOSO's brochure, I assure you we have until the end of January to send in the caps.
I would like to thank all the people who are donating caps to KOSO and the following companies for donating yarn for my KOSO project:
Kraemer Yarns
Westminster Fibers
The Yarn and Fiber Company


IAPM57:Boston Handmade Downtown
[ 21:38 ]
Play Now
|
Play in Popup
|
Download