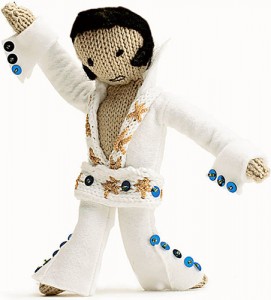 In some ways it seems that the question "Have I pod faded?" is an obvious thing. I mean, I have not put out a new show in a long time. But, it's not that simple. I have been planning and recording things in the meantime, it's just that for many reasons all this work has not seen the light of day. So, while others are clear about my pod fading status, I am unsure and unwilling to say that my knitting podcast is dead.
In the past year or two I have ramped up to start a regular show cycle over and over again. I have recorded interviews, even put together episodes, but have not been able to post. The process of creating this show, which I am still passionate about, has become a fight with the undead for me. It's not dead, really… it's just resting on stitch markers and I have not figured out how to continue it.
So, let's examine the time line.
Almost 4 years ago now I started slowing down with the show. In the period of the slow down I have gotten married, started a fiber guild, started a Maryland Sheep and Wool after party, started a geo community in boston, learned new tech geekyness and… and… and… and… started to drift.
Also, it seems that without a financial motive, it is really hard to keep up with your art and passion. Trips to knitting events, sound equipment, yarn… yarn… is not cheep. And then there's the other thing…. How do you monetize this whole thing so that you can afford to continue to do what you love and if you monetize what you love, will you still love it.
I had started going through the motions of starting a second podcast that would focus on interviews and be a little more professional than my current community podcast, but that ended up sapping a lot of my energy and creativity from my current podcast, which in the end had the effect of putting the breaks on both podcasts. Great…
Also a casualty in this process of pod fading has been my knitting mojo. I still love to meet with other knitters and to see what people are up to, but I have not been up to anything with my own knitting or other fiber craft in a while. I have not learned any new technique, I have not finished many projects, and the ones I have finished I am not thrilled about.
As I approach the 6th anniversary of the first show post, I wonder if this show is going to go from undead to fully dead or perhaps to pheonix.
So my podcast listeners and blog readers, I post this piece as a way to share with you my thoughts and feelings… much like the first episode. Instead of a friend that I cannot turn away, it is now a show that I do not want to turn away. This post is part of my attempt to get the momentum to continue to create content for the blog/podcast, so while this may seem like a downer… perhaps the way to think about this post… is to think of it as a small bright flower peeking up from a cold winter soil… the potential to fully bloom is there. So let's all hope for good weather and the return of my podcasting/knitting mojo.
PHOTO CREDIT: Aine D's Flikr Stream